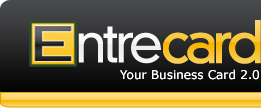 I've paused my blogging activity for such a long period. I think I have to go back to work, from now on.

Recently, I signed up for
EntreCard
. I wanted to see how exactly this program works. If I find this social networking tool helping me much i building my personal ranking, I would stay. Otherwise, I'm moving away. 
So let's give it some time. Maybe I should try this for about a month or two. What say you?